This will cover a full set of
Vob, Ifo
and
Bup
files on your Hard Drive to
Dual Layer Media
.
We recommend only Verbatim +R DL discs. See why
here
It is
NOT
recommended to use
DVD-R DL
Discs for
Video
.
Firstly make sure your Vob, Ifo and Bup files are in a folder called
VIDEO_TS
then open ImgBurn in
Build Mode
and ensure it's set to output to
Device
(In the menu at the top, click 'Mode' -> 'Build', then click 'Output' -> 'Device')
then choose the folder option in the source box, and navigate to the folder you stored the files.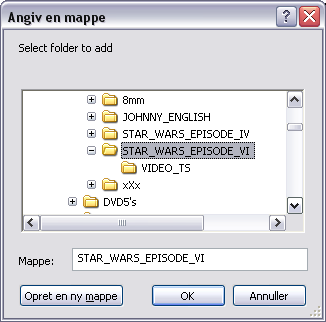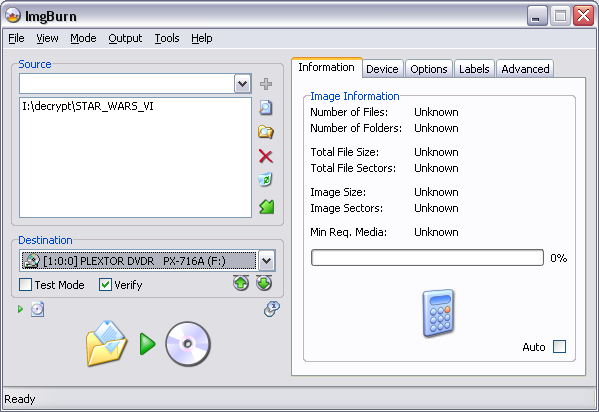 Press the calculator to make sure your project will fit on Dual Layer media.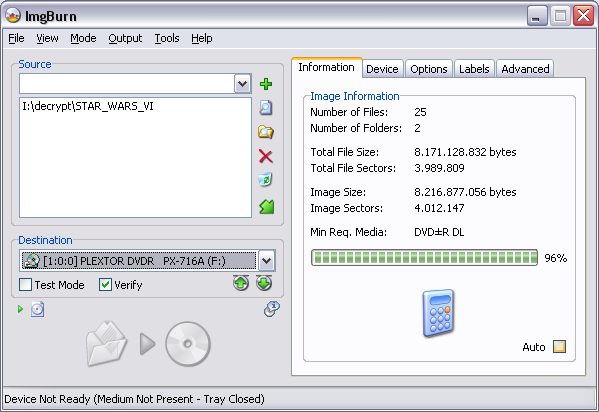 At this point you will see a similar window to the one shown below.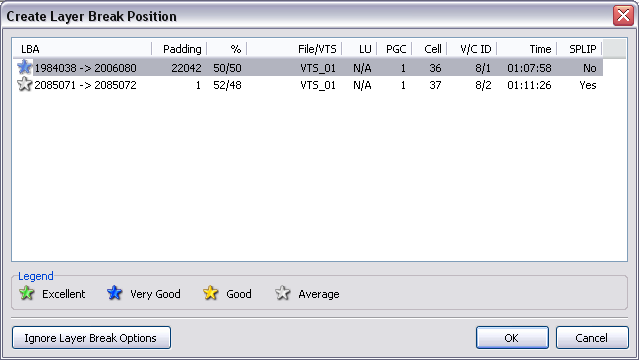 This is where you decide which bit of the film should be the first bit after the layer jump (where the player may pause for a second as the laser moves from layer 1 to layer 2).
You might get one option here or you could get several. If there's only one, it's obvious which one you need to select! If there's more than one, select the one with the best rating - look at the stars!
In this example, the best option is the one with the blue star that says 'No' in the SPLIP column.
Make your selection and then press 'Ok'.
Choose your write speed in 'Device'.
Whilst here, you can make sure your drive has bit setting set to DVD-ROM for Dual Layer media. (if your drive supports it)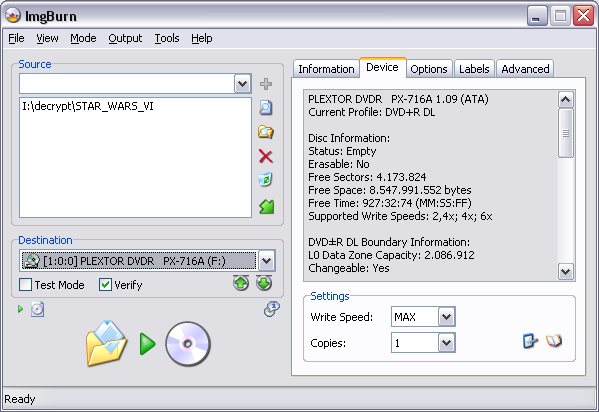 At this point go to the Options tab, choose
ISO9660+UDF
.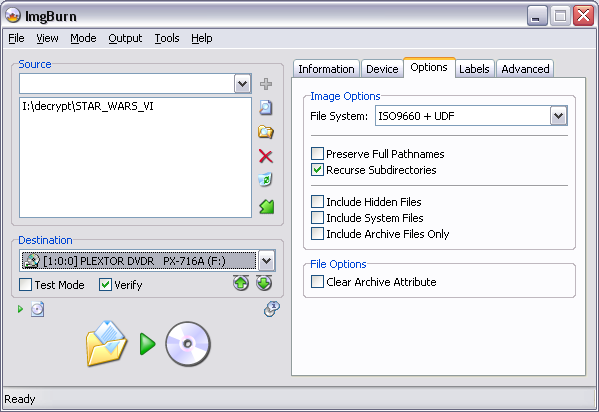 Then go to the Labels tab and enter the label in both fields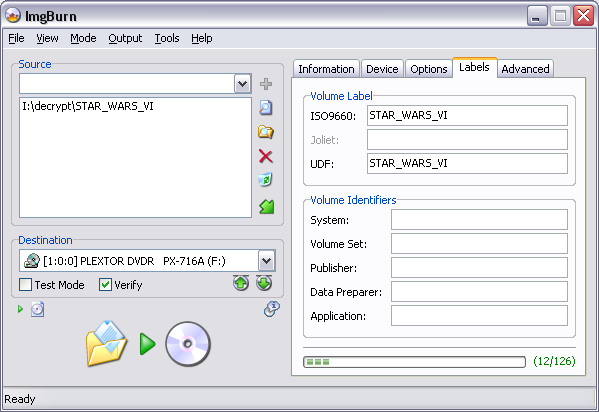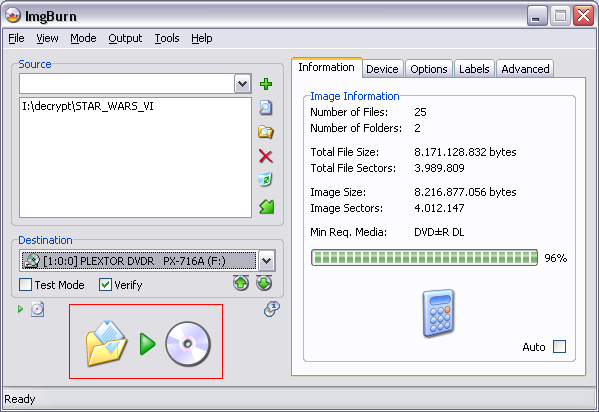 Then press the build button (Highlighted in the red box) and you will see a similar layer break window again,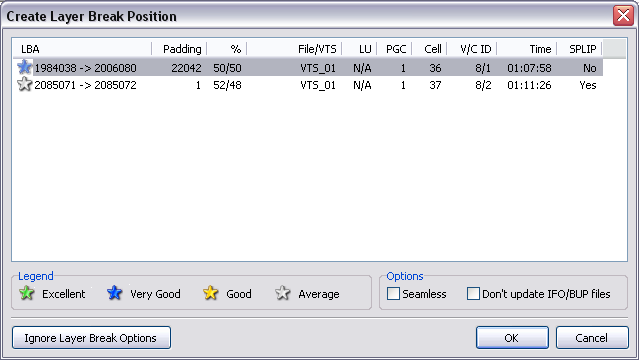 Normally you shouldn't worry about ticking the 'Don't update IFO/BUP files' box, and you should
definintely
not tick it
unless
you have prepared IFO's in advance containing layer break info.
Press 'Ok'
You will then see this window.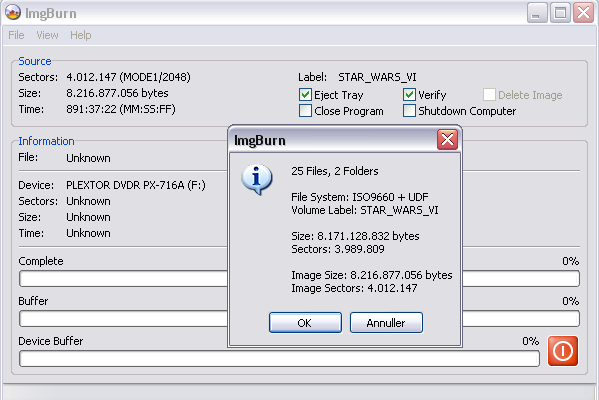 Press '
Ok
' and the programme will start writing the Disc.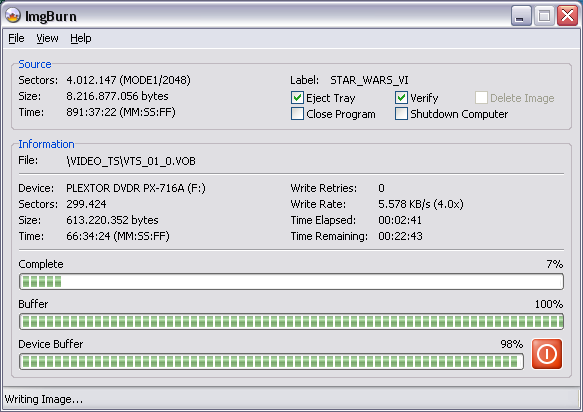 Then sit back and relax whilst your Disc is burning.
It will be dependent on your drive, media and firmware as to how long the burn and verify will take.