SETTING BOOKTYPE IN IMGBURN
If you already know what booktyping is and just want a quick video of how to change the booktype in ImgBurn see here ~
If you are unsure what Bitsetting/Booktyping is read below...
Use the bitsetting (Set Booktype) feature in your bitsetting software to set your DVD+R/DVD+RW/DVD+R DL Media (Only DVD+R/+RW Media) backup to DVD-ROM for much higher compatibility with older DVD players and Game Consoles such as XBOX and PS2. Bitsetting is done during the burning process when bitsetting DVD+R Media. DVD-R Media Bitsetting, Booktyping is at the moment debatable [DVD-R Bitsetting Thread].

When the booktype field (bitsetting) is changed to DVD-ROM then DVD players are fooled and will think the user has put in a DVD-ROM disc instead of a DVD+R disc and will read it accordingly. This results in an increased chance that the player is able to read the disc and thatís why the ability to change the booktype field (bitsetting) is essential to a lot of users. Certainly owners of a DVD player that requires this field to be set to DVD-ROM, in order to work properly, will prefer a DVD recorder that supports setting the booktype field. - Quote from CDFreaks.com

You can also set/change your DVD+RW Media's bitsetting/booktype, but the difference is that you can bitset DVD+RW Media even AFTER you have burned it.

Here are directions on how to Bitset or Change the BookType with DVD Decrypter on Plextor, NEC, BenQ, LG, LITE-ON, Nu Tech/QSI and Ricoh Burners. There is no one best bitsetting utility out there, if it works for your burner it works. You can also use Nero to Change the BookType or BitSet, check out our NERO Booktype Tutorial for directions how. Note: Only Nero SmartStart/Express version 6.3.1.6 or above support BitSet or Changing the BookType. If Nero and DVD Decrypter does not Change the BookType or BitSet your DVD+R to DVD-ROM please refer to other Bitsetting Programs

How to tell if the disc you burned is already booktyped to DVD-ROM? - Read the disc using programs such as DVDInfoPro, Nero CD-DVD Speed, DVD Identifier, or Imgburn to read your (already) burned DVD Media.
Courtesy of
http://www.booktypefaq.com/
A long story short, booktyping is a way of writing your media that tricks your standalone player into thinking it is reading a commercially pressed DVD to widen the compatability of recorded media among standalone players. This is an especially good idea to do when using DVD+R DL media as some players have a hard time recognizing burnt dual layer discs.
NOTE
:
Many drives are factory set to booktype dvd+r dl media to dvd-rom. ImgBurn (by default) will booktype to dvd-rom on these 'supported' drives. Also there are a few drives which aren't capable of booktyping/bitsetting at all out of the box...Pioneer drives being one make.
Now lets get started....
The booktype in Imgburn can be set for your drive in write mode, build mode (device tab) or discovery mode. If you are using the EZ-picker screen choose the appropriate icon to access the mode you wish to use.
WRITE MODE

:

Step 1
: Click the icon of the open book in the lower right hand corner of the main window.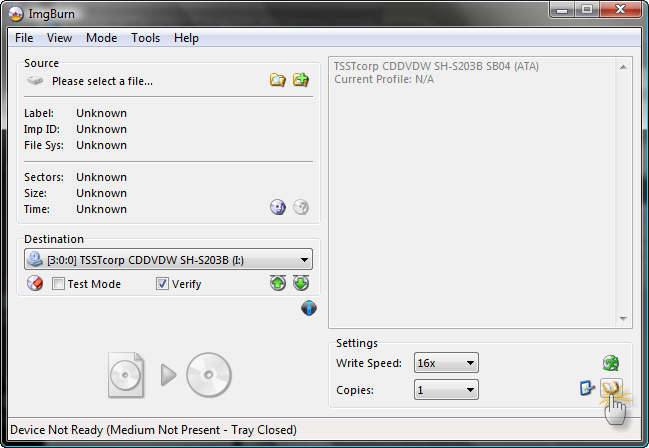 Step 2
: Select your drive.
Step 3
: Choose the type of media you wish to the change the booktype of (Only +R media is capable of bitsettting)
Step 4
: Choose the desired output of your media, typically DVD-ROM
Step 5
: Click the "Change" button...
...and you should have successfully set the booktype of your drive/media combo.
BUILD MODE
:
From the main window in build mode you will have to select the device tab on the right side to access the booktype icon.
Then follow steps 2 through 5 from above
.
DISCOVERY MODE
:
Choose the booktype icon in the lower right hand side of the main window.
Then follow steps 2 though 5 from the read mode section.
Advanced features
~ courtesy of Cynthia.
4.2.11.5 Advanced
If you have an OEM writer from BenQ, LG, Lite-On, NEC, NuTech, Plextor, Ricoh or Samsung, this function makes it possible to add the OEM writer in a table, so that ImgBurn can read the current status setting(s) that you have applied. If you have already applied this in the 'Advanced' feature in the 'Change Book Type' function (section 4.2.12 of this guide), there is no need to do it here as it's the same function.
As an example I will use my 'SONY DVD RW DW-Q30A' writer, a re badged Lite-On SHW-1635S writer.
Press the 'Advanced' button.
Select the 'real' manufacturer of your drive in the 'Drive OEM' drop down box.
I select 'Lite-On'.
Type in the ID string of your drive as it's visible within the main program window.
Press the 'OK' button.
The next time you write to a disc, you will have any of the enabled Lite-On features for the writer to show up in the log.
I 00:00:00 Advanced Settings - Force HT: N/A, Online HT: N/A, OverSpeed: N/A, SmartBurn: Yes
WARNING!
If you receive an
invalid command operation code
it means that your drive isn't capable of booktyping/bitsetting.